Definujme, co jsou to probiotika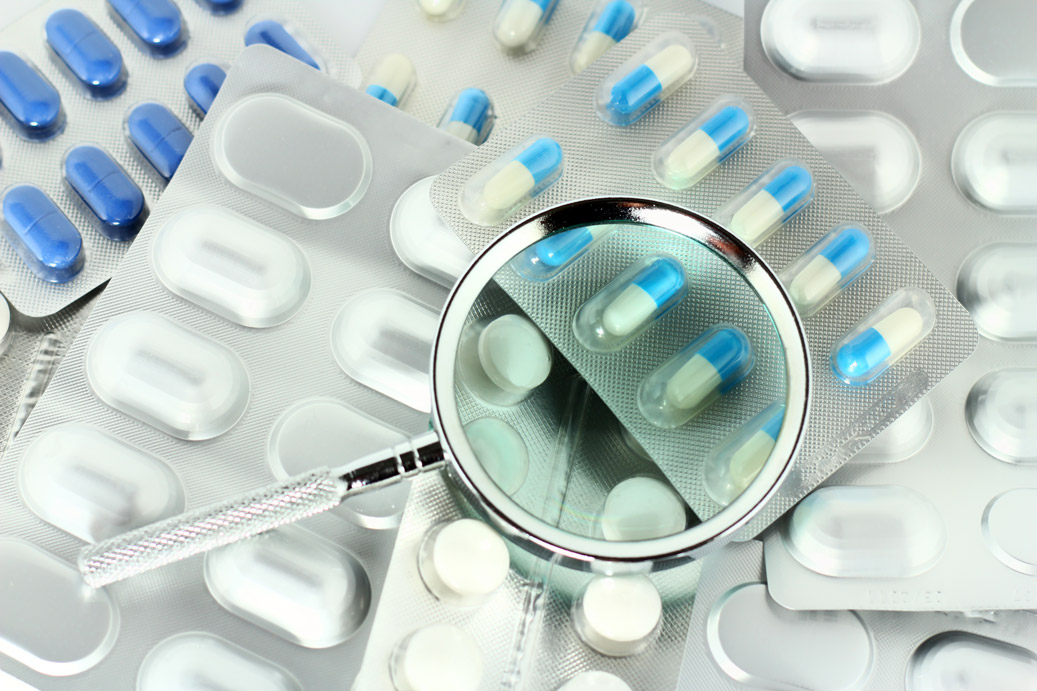 Probiotika jsou světovou gastroenterologickou organizací (WGO) definovány jako živé mikroorganismy, které mohou být obsaženy v různých produktech, jako jsou potraviny, léky nebo výživové doplňky. Probiotické bakterie, na rozdíl od dlouhodobě se vyskytujících mikrobů v našem mikrobiomu, žijí v tlustém střevu jen dočasně. To však neznamená, že nemají vliv na nás a na mikroby, které hostíme.
Mezi nejčastější používaná probiotika patří zejména tzv. bakterie mléčného kvašení (LAB) – druhy rodů Lactobacillus a Bifidobacterium, stejně tak kvasinky Saccharomyces cerevisiae, některé druhy E. coli, Bacillus spp. a jiné. 1 V současnosti se probiotika používají především pro léčbu zažívacích potíží (akutní infekřní průjmy, post-antibiotické průjmy apod.), v posledních letech však přibývá velké množství vědeckých studií potvrzujících účinek některých probiotik i v léčbě jiných, závažnějších onemocnění. Mezi nejvýznamnější v oblasti gastroenterologie patří: syndrom dráždivého tračníku (IBS)2, nekrotizující enterokolitida (NEC)3, chronické zánětlivé onemocnění střeva, profylaxe infekcí C. difficile5, pomocná léčba při eradikaci H. pylori6. Mechanismus účinku, kterým probiotika ovlivňují průběh těchto onemocnění je dán především antimikrobní aktivitou, posilováním funkce střevní epitelové bariéry a modulací imunitní odpovědi.
Tab. 1.: Mechanismus účinku probiotik7,8
| | |
| --- | --- |
| Antimikrobní aktivita | Snížení luminálního pH; produkce antimikrobních peptidů; kompetitivní inhibice adheze patogenů; antitoxinové účinky |
| Posílení bariérové funkce střevního epitelu | Zvýšení produkce hlenu; posílení těsného spojení mezi buňkami |
| Imunomodulace | Snížení sekrece zánětlivých cytokinů; zvýšení sekrece protizánětlivých cytokinů; vliv na dendrocyty, monocyty, makrofágy, lymfocyty – T-lymfocyty, regulační T-lymfocyty, B-lymfocyty, NK buňky |
Nabídka probiotik je dnes opravdu široká. Ať už ve formě doplňků stravy nebo tzv. funkčních potravin. Každý kdo se rozhodne konzumovat probiotika, by se měl u zvoleného přípravku řídit tím, zda výrobce deklaruje množství živých probiotických kmenů nejen v době výroby, ale i v cílové fázi, tedy ve střevu, kdy probiotický kmen již překonal přirozené kyselé prostředí žaludku, které množství kmenů fyziologicky ničí. Dále by měl výrobce doložit závěry klinických studií, které funkčnost a účinnost daného preparátu ověřily. Při hledání těchto dat se váš výběr probiotik značně zúží.
Přípravek SYMPROVE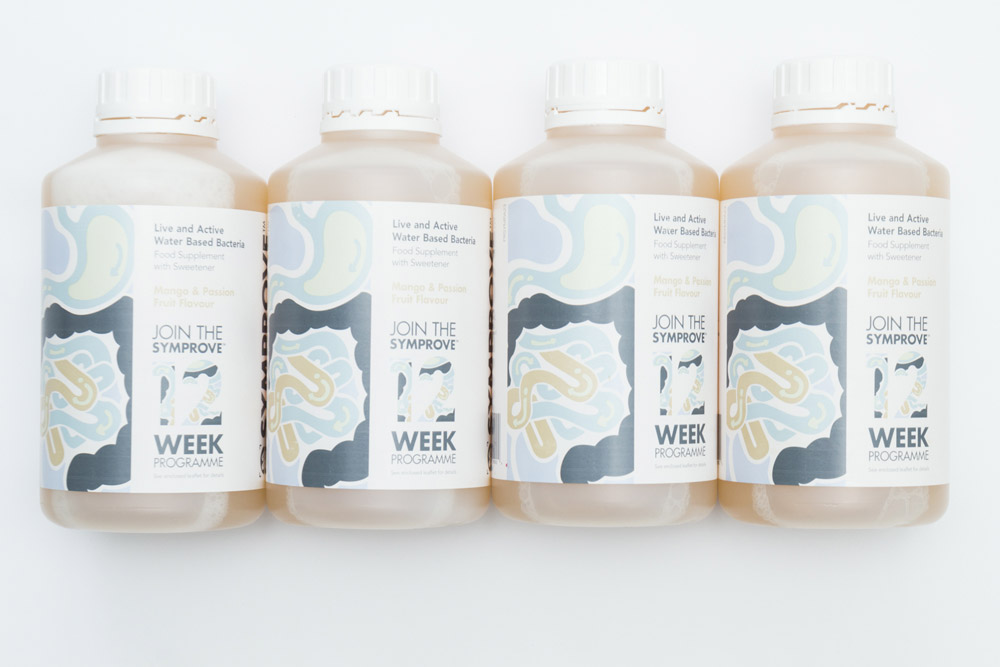 Symprove (Symprove Ltd, Farnham, Surrey, UK) je unikátní, na vodní bázy založený multy-kmenový bakteriální produkt obsahující čtyři kmeny živých bakteriálních kultur: Lactobacillus rhamnosus NCIMB 30174, Lactobacillus plantarum NCIMB 30173, Lactobacillus acidophilus NCIMB 30175 a Enterococcus faecium NCIMB 30176. Bakterie se v přípravku vyskytují ve formě vodné suspenze extraktu z naklíčeného ječmene. Padesát ml obsahuje zhruba deset miliard živých bakterií. Ječný extrakt slouží jako výživa a zároveň ochrana pro přítomné bakterie před působením žaludečních kyselin. Vysoká životaschopnost bakterií byla dokázána studií zaměřenou na porovnání některých komerčních probiotik ve schopnosti přežít po vystavení různým laboratorním modelům žaludečních šťáv.9 Přípravek Symprove byl zkoumán také při léčbě syndromu dráždivého tračníku10, nespecifických zánětlivývch onemocnění střeva11 a divertikulární chorobě tlustého střeva12, přičemž se ukázala účinnost v léčbě některých symptomů těchto onemocnění. Veškeré vědecké studie v souvislosti s přípravkem Symprove byly provedeny na University Collage London v souladu s normami GCP.
Tab. 2.: Přehled výsledků vědeckých studií v souvislosti s účinkem některých bakteriálních kmenů druhů Lactobacillus rhamnosus, Lactobacillus acidophilus, Lactobacillus plantarum, Enterococcus faecium
| | |
| --- | --- |
| Lactobacillus rhamnosus | Redukce s virem asociovaného plicního poškození (L. rhamnosus CRL1505)13; prevence a redukce závažnosti atopické dermatitidy u dětí (L. rhamnosus GG)14; prevence nekrotizující enterokolitidy u novorozenců (L. rhamnosus GG)15; prevence a léčba bakteriální vaginózy (L. rhamnosus GR-1)16; pomoc při snižování tělesné hmotnosti u obézních žen (L. rhamnosus CGMCC1.3724)17; protekční účinek před vznikem indukované NASH u modelového zvířete ( L. rhamnosus GG)18; léčba akutní gastroenteritidy u dětí (L. rhamnosus GG)19; redukce rizika rhinovirové infekce u předčasně narozených dětí (L. rhamnosus GG a L. rhamnosus ATCC 53103)20; ochrana hladkého svalstva tlustého střeva před poškozením lipopolysacharidy (L. rhamnosus GG)21 |
| Lactobacillus acidophilus | Redukce symptomů IBS22; léčba cestovatelského průjmu23; prevence a léčba bakteriální vaginózy16; léčba průjmu způsobeného C. difficile24 |
| Lactobacillus plantarum | Redukce symptomů IBS22 |
| Enterococcus faecium | Léčba post-antibiotického průjmu25 |
(specifický kód pro kmen je uveden v případě, že byl dostupný)
Reference